PlayerUnknown's Battlegrounds PUBG HD Wallpapers
Apr 13, 2018
Install PUBG HD Wallpapers New Tab Theme and get HD images of PlayerUnknown's Battlegrounds Battle Royale gameplay.
We created this extension is only because we love playing PlayerUnknown's Battlegrounds. We hope that all fans of PUBG will like seeing their favorite characters from the game right on their start web page. New Tabs are not what they used to be. Blank start pages are now out of the equation. Stop wasting new tab space and turn it to your advantage. PUBG HD Wallpapers New Tab Theme is designed to do exactly this. It will transform your default new tab theme with a new improved fully-featured one.

PlayerUnknown's Battlegrounds HD Wallpapers New Tab Theme includes several widgets that will highlight different aspects and information important to you. You can use this awesome extension as your personal organizer no matter if you are at home in front of the PC or working at the office. By design PUBG HD Wallpapers New Tab Theme tries to get the most of your New Tabs, enhancing your productivity, its visual appearance and your overall web surfing experience.
You can find the extension in Chrome Web Store.
See also: Fortnite HD Wallpapers New Tab Theme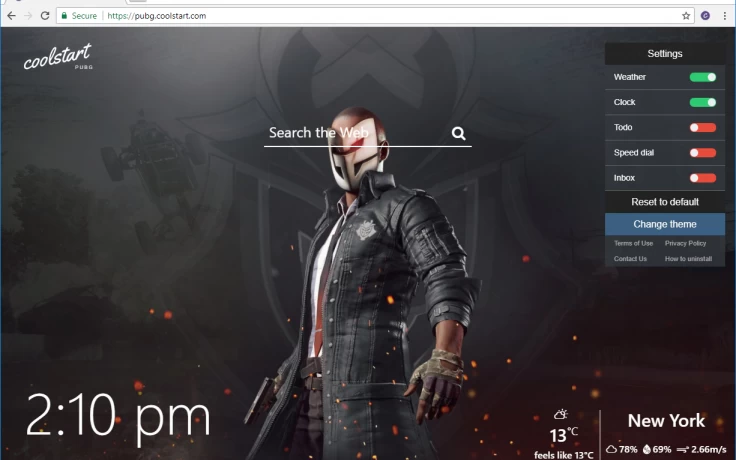 Features:
High quality wallpapers with every new tab
Current Date/Time
Current weather
Gmail Inbox
Google Calendar Sync
ToDo List

Most Visited Sites
Recently Closed Pages
Bookmarks
About PlayerUnknown's Battlegrounds (PUBG)
PlayerUnknown's Battlegrounds (PUBG) is a multiplayer online battle royale game developed and published by PUBG Corporation, a subsidiary of publisher Bluehole. The game is based on previous mods that were created by Brendan PlayerUnknown Greene for other games using the 2000 film Battle Royale for inspiration, and expanded into a standalone game under Greene's creative direction. In the game, up to one hundred players parachute onto an island and scavenge for weapons and equipment to kill others while avoiding getting killed themselves. The available safe area of the game's map decreases in size over time, directing surviving players into tighter areas to force encounters. The last player or team standing wins the round.
Source: Wikipedia

Disclaimer: The website and browser extensions are made by fans for fans. Our team is not affiliated with or sponsored by the entity whose materials are represented in the extensions. The trademarks belong to their respective owners.