Fortnite HD Wallpapers New Tab Theme
Apr 13, 2018
Install Fortnite HD Wallpapers New Tab Theme and get HD images of Fortnite characters with every new tab - outlanders, commandos, etc.
This extension is made by fans for fans who like the Battle Royale game genre like Fortnite, PUBG, Overwatch, etc. New Tabs are not what they used to be. Blank start pages are now out of the equation. Stop wasting new tab space and turn it to your advantage. Fortnite HD Wallpapers New Tab Theme will do exactly this. It will transform your default new tab theme with a new improved fully-featured one.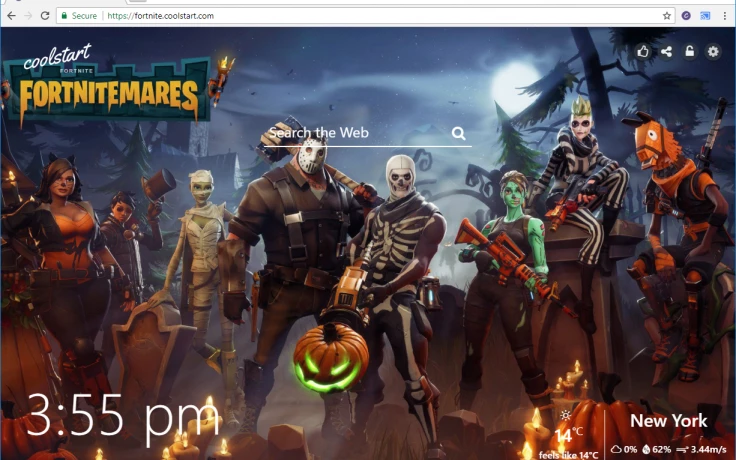 See also: PlayerUnknown's Battleground PUBG HD Wallpapers
This awesome extension is capable of being your personal organizer no matter if you are at home in front of the PC or working at the office. By design Fortnite HD Wallpapers New Tab Theme tries to get the most of your New Tabs, enhancing your productivity, its visual appearance and your overall web surfing experience.
You can find the extension in Chrome Web Store.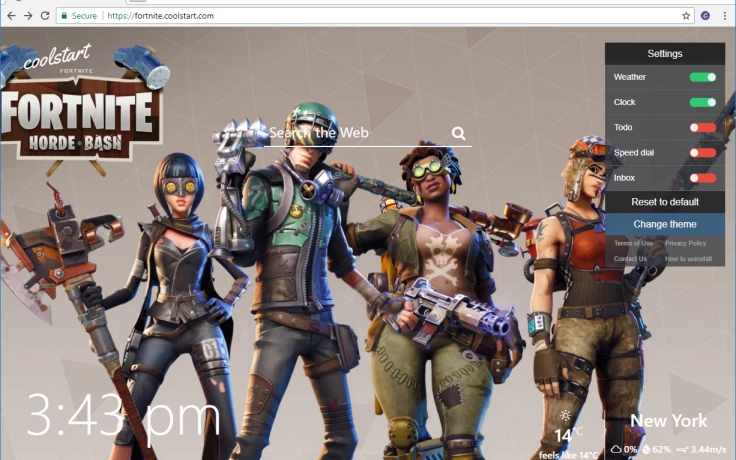 Features:
High quality wallpapers with every new tab
Our extension includes only high quality images, manually selected by Fortnite fans.
As you can guess by its name this widget will display current time based on your current location.
This widget detects your current location and displays an accurate and detailed weather forecast.
Check your mailbox for new emails right from your start page.
The widget will automatically sync your Google calendar of the associated Google Account. A small counter below the clock widget will notify you for the upcoming events for today. Thus you will never miss an important appointment or task.
It is always easy to write down things that need to be done. Get rid of the old school pen and paper. CoolStart enables you to create your own ToDO list. Add/remove and mark tasks as done right from your custom start page.

This feature lets you have websites that you visit more frequently right at the front.
Get instant access to pages that you accidentally recently closed.
CoolStart allows you to get a more appealing appearance of your bookmarks right from your customized new tab.
This extension allows you to switch back and forth between various themes.

About Fortnite
Fortnite is a co-op sandbox survival game developed by Epic Games and People Can Fly, released for Microsoft Windows, macOS, PS4 and Xbox One. Considered by Epic as a cross between Minecraft and Left 4 Dead, Fortnite has up to four players cooperating on various missions on randomly-generated maps to collect resources, build fortifications around defensive objectives that are meant to help fight the storm and protect survivors, and construct weapons and traps to engage in combat with waves of these creatures that attempt to destroy the objectives.
Source: Wikipedia
About Battle Royale
It gained its popularity due to one of its standalone game mode - Battle Royale. This mode features up to 100 players, alone or in small squads, attempting to be the last player alive by killing other players or evading them, while staying within a constantly shrinking safe zone to prevent taking lethal damage from being outside it. Players must scavenge for weapons and armor to gain the upper hand on their opponents. Recently, Epic Games released a mobile version of the game so users can enjoy it on their smart devices too.
Source: Wikipedia

Disclaimer: The website and browser extensions are made by fans for fans. Our team is not affiliated with or sponsored by the entity whose materials are represented in the extensions. The trademarks belong to their respective owners.