Lambo-Ferrari-Jaguar Super Cars HD Wallpapers
Apr 24, 2018
Install this extension and find the best background collection of Lamborghini, Ferrari and Jaguar.
Get the best HD backgrounds of the best sports and super cars - Lamborghini, Ferrari and Jaguar. These are the best sports and super cars of all times. Every boy wants to have them one day. Our extension will also show you the current date, time and weather forecast based on your current location.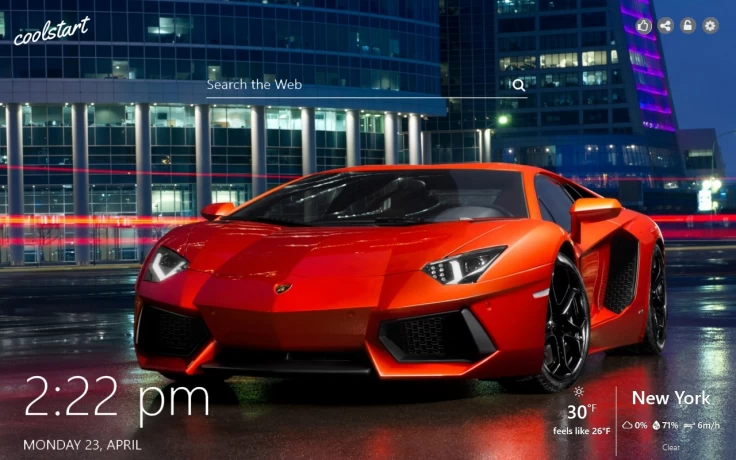 Get rid of the old school pen and paper. Lambo-Ferrari-Jaguar New Tab Theme enables you to create your own ToDO list. We also added a feature that lets you have websites you visit more frequently right or you accidentally recently closed at the front.
You can find the extension in Chrome Web Store.

Other Features:
Google Calendar sync
Gmail inbox

Most Visited Sites
Bookmarks
Recently Closed Pages


About Lamborghini
Automobili Lamborghini S.p.A. (Italian: [lamborˈɡiːni] (About this sound listen)) is an Italian brand and manufacturer of luxury sports cars and SUVs based in Sant'Agata Bolognese and tractors Lamborghini Trattori in Pieve di Cento, Italy. The company is owned by the Volkswagen Group through its subsidiary Audi.
Source: Wikipedia
About Ferrari
Ferrari N.V. (pronounced [ferˈrari]) is an Italian luxury sports car manufacturer based in Maranello. Founded by Enzo Ferrari in 1939 out of Alfa Romeo's race division as Auto Avio Costruzioni, the company built its first car in 1940. However, the company's inception as an auto manufacturer is usually recognized in 1947, when the first Ferrari-badged car was completed.
Source: Wikipedia
About Jaguar
Jaguar (UK: /ˈdʒæɡjuər/, US: /ˈdʒæɡwɑːr/) is the luxury vehicle brand of Jaguar Land Rover, a British multinational car manufacturer with its headquarters in Whitley, Coventry, England and owned by the Indian company Tata Motors since 2008.Jaguar Cars was the company that was responsible for the production of Jaguar cars until its operations were fully merged with those of Land Rover to form Jaguar Land Rover on 1 January 2013.
Source: Wikipedia
Disclaimer: The website and browser extensions are made by fans for fans. Our team is not affiliated with or sponsored by the entity whose materials are represented in the extensions. The trademarks belong to their respective owners.